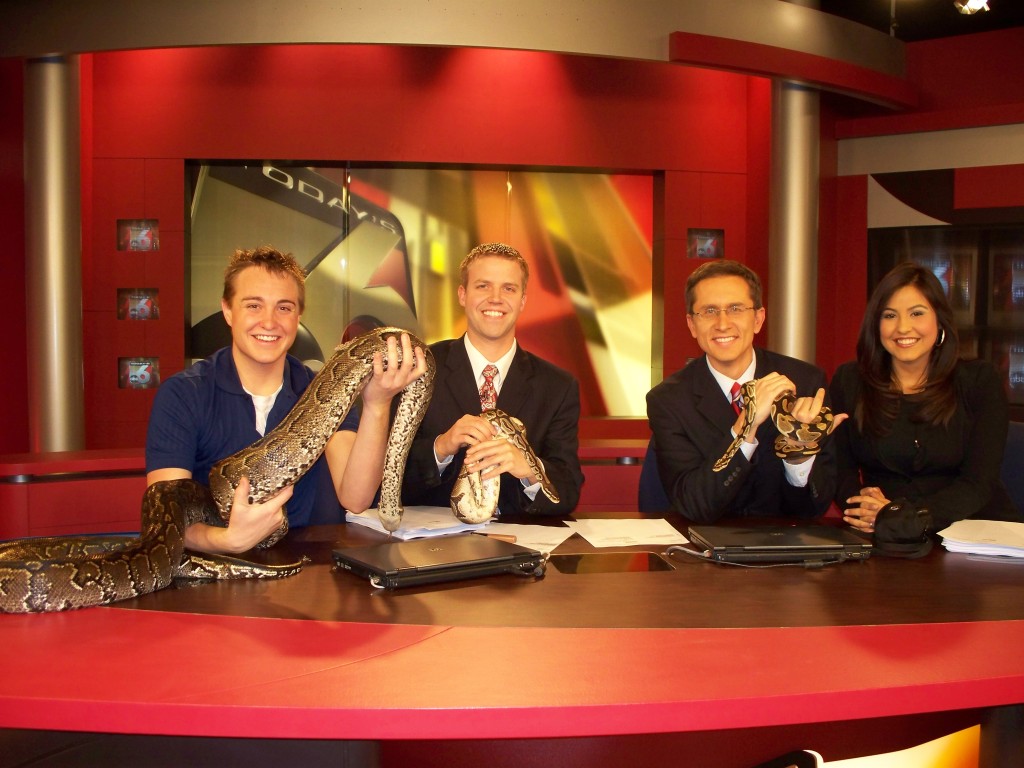 These past few weeks have been incredibly busy for the animals and I. From our new weekly segment "Creature Feature" on Channel 6 to the adoption of two HUGE pythons, I've had barely time to sleep let alone think about writing a blog! That's why I've decided it was time to share some of my most recent favorite highlights! Enjoy~
From now on, every Wednesday on Today's Channel 6, the animals and I will be featured in a new segment called "Creature Feature." Each week I will highlight a different animal. So far it has been quite a blast (as you can see on Lincoln Grave's face)! To see our first segment with "Rocky" our Rock Python click here http://fb.me/u6N0bilO
Another amazing highlight of this month was meeting the legendary Bob Applegate. For those of you who are not familiar with Bob, he is the father of herpetoculture (the keeping of reptiles and amphibians in captivity). He has worked with all sorts of critters and has been keeping them longer than I've been alive! Bob and his wife drove up from Southern California to make an appearance at the Idaho Herpetological Society's annual meeting on November 6th.
I'm sure you were wondering what huge python we were holding! This is "Aeriana" our 17 ½ foot Reticulated Python. She is the longest snake in Idaho and arguably the heaviest at 230lbs.
Several years ago she was rescued from a Seattle pet shop where she was living in a cold cramped cage. She even suffered a severe respiratory infection. She went on to live at our good friend's house for several years and once they were expecting a baby they decided Aeriana would be a better fit for our Animal Ambassador Team. She is such a wonderful animal and we are hoping very soon to share her story with a national television audience. Keep checking back for updates! Ps. don't mind my white socks!