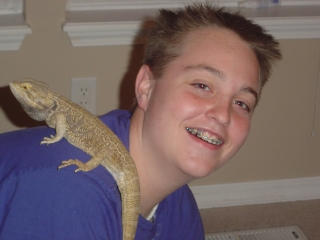 I regret to inform everyone that "Spike" our resident Bearded Dragon passed away early this afternoon. Ever since we rescued Spike in the summer of 2006 he has brought so much joy to not only me and the people who work with him on a daily basis but to the millions of people he has educated. Always an audience favorite, Spike would steal the show by bobbing his head up and down or doing his famous pushups.
Spike was always the perfect candidate to sit on people's shoulders or even people's heads! Here we are both pictured in the fall of 2006.
One of his favorite things to do was bask outside in his custom built habitat in the summer. Here he is doing what beardies' do best: Flaring up! Anytime a bird or even a plane flew over his exhibit he would puff up to appear bigger than he really was.
I couldn't have asked for a better lizard. Although today has been filled with sadness and grief I can't help but think how happy I am that he lived the rest of his years in complete comfort and harmony. Bearded Dragons normally live 10 – 12 years of age.
***The picture above was taken earlier this month on what would be his very last television appearance.
Goodbye Spike. We will all miss you. Corbin & Animals